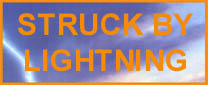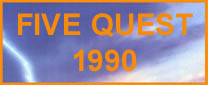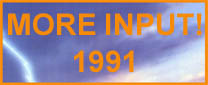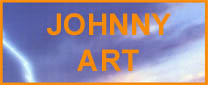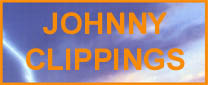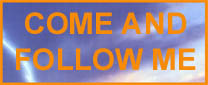 FIVE QUEST 1990
OK, this next little adventure was caused by a brief visit I made to Astoria, Oregon in 1989 to try to find Stephanie's house from Short Circuit. It was a family vacation to the Northwest with my dad and my step mom and all my brothers and sisters. We found the house all right, but we were under such a timelock that we didn't get to spend much time looking around anywhere else in town. So that summer I resolved to go back to Astoria the next year when I graduated from high school in 1990. I got a job at McDonald's and started saving my money.

By the time spring 1990 rolled around I had been in contact with Short Circuit producer David Foster. I wanted to do movie poster art for Short Circuit 3, which never happened of course, but I sure did want it to 'cause Foster actually said he would consider my offer in the event that the movie was made. But since I had been in touch with him I resolved to stop in L.A. and see him on the way to Oregon that summer. And on the way to L.A. we might as well stop some other places. Mom and I took Amtrak and stopped off to see Carlsbad Caverns and the Grand Canyon. This is a picture of when corduroy Johnny Five escaped and climbed a tree on the edge of the canyon.


Once we arrived in L.A. we had to do the whole Hollywood thing, Universal Studios, etc. This is Lego Johnny Five staking out his star on the Hollywood Walk of Fame. I had thought at times of petitioning to get Number Five a star or maybe some tread prints in front of the Chinese Theater.


By this time my goal had become to find Number Five himself no matter what it took. I knew he was in L.A. somewhere. We had just about a week to get him found. So about the third day there I tried and tried to get in touch with David Foster. After no luck (you know how hard it is to get anyone on the phone in Hollywood), we finally decided to just go to his office and see what happened.

The building porter thought we were nuts and she told us there was no way we were getting upstairs to the 11th floor without an OK from Foster himself. So they called up... and he was there! and he said "Sure come on up"! I don't even think the porter believed it. I felt pretty important for a few minutes. And then there we were in the Tri Star studio offices, where Turman/Foster was housed... and then sitting on the couch in David Foster's office. This whole thing went by pretty fast, but I do remember meeting Gary Foster, who had a toy Johnny Five. (I got to hold it... WOW!) And I think I showed Mr. Foster some of my artwork. We talked a little about what a phenomenon Short Circuit had become, and then he asked me why in the world I liked his movie so much. I tried to tell him and I got all choked up and just about cried.

As the visit wound to a close, I asked the big question. "Where is Number Five? I have to find him." Sixty seconds later David Foster was on the phone to a place called All Effects... Then I remember something about him giving my mom driving directions by pointing at the streets out the big office window, and then suddenly we were on our way to All Effects with validated parking and a camera loaded with film.

All I can remember saying upon entering the special effects workshop was something like "Hi, my name is Virginia Smith and I came to meet Number Five." And there he was, right around the corner sitting in the middle of a workshop full of busy people, some of whom were making Energizer bunnies and the rest working on stuff for FX 2. I just couldn't believe he was real! And he was so tall, extended to over six feet high, and somehow more substantial than he looks on screen. His hands are gigantic, and his head and eyes and eyelids, delicate though they are, are pretty huge.

Eric Allard was in Toronto making FX 2, but a really nice friend of his named Phil Bartko - who worked on building the original Number Five - showed me around and told me all about the robot. He took off panels and showed me stuff like the inside of the arm and the circuitry that ran the main drive system, and the all-important "kill switch" which actually had to be used in the moist environs of Oregon. "Entrance of moisture into the system" had caused Number Five to take off of his own "free will" without anyone's permission. They actually had to chase him down and shut him down via the main switch, which is actually located on the big wheel base behind the treads. And that neat little wheel in the very back... it's made from go-cart wheels.

I also got to see the telemetry suit used to control the robot for Short Circuit 2 and then I got to play with the insert arm, which is used for close-up shots. It's cable operated by three rings for the finger movement and a lever to bend and twist the arm itself. I also took a bunch of pictures and had all the guys there looking at my drawings of Number Five. I think we were there for over an hour.

Right before we left I had to sort of get a grip on the whole thing. Number Five had been my best friend for the past four years and I really didn't know quite how to say "good bye" It felt like I had just gotten there. I gave Five a hug and I had to stand on my toes to give him a kiss. And I promised to come back the next year.

After L.A. it was on to Astoria - the original reason for the trip. The day and a half in the train going up the west coast was a relaxing break and I had fun showing corduroy Johnny Five to all the kids on the train. When we arrived in Portland we rented a car and drove to Astoria and found what was probably the last hotel room in town. Our visit just happned to coincide with the big Scandanavian mid-summer festival.

I took some more pictures of Stephanie's house and the Astoria bridge. We even drove over it into Washington. It costs a buck fifty each way! I think they're still paying for it. We drove all over town and saw a few spots where they had done bits of Short Circuit. And when we moved from the hotel to a bed and breakfast we met a lady working there who had been an extra in the movie.

We found a cool Salvation Army store and I bought some cool Stephanie clothes - flowered skirts and sweaters. And Johnny enjoyed his ride in the grocery cart. I ate some salmon at a cool restaurant that was right on the river and then we went to the movies and saw Total Recall (I think it was also that same summer that Arnie had filmed Kindergarten Cop in Astoria.)

It was a petty relaxing stay, and it was all topped off with a chance meeting. I was walking up the street to see Stephanie's house again, and the elderly lady who lived there just happened to be outside staining a fence on the side of the yard. She said hello to me as I walked by and I got up the nerve to talk to her. "I love your house," I said, to which she asked, "Have you ever seen the movie Short Circuit?" This began a conversation that lasted an hour or so, and she even let me take her picture at the end when she was heading inside. I never had the hutzpah to ask if I could go inside, but I do wish I had at least asked to stand on the porch. Either way it was cool. She and I actually exchanged a few letters and cards over the next couple years. I don't know if she still lives there now.

After a trip like that I couldn't imagine anything better. But the stage for the next summer was already being set. When I called David Foster from Astoria just to say "hi" he informed me that he had been looking for me all over. He had spoken with Tim Blaney - the voice of Number Five - and Tim had expressed an interest in meeting someone who liked Short Circuit that much. I got in touch with Tim after I returned home to Mississippi and I kept in touch with him all the next year (my freshman year in college). I'll never forget the first time he let me talk to Number Five on the phone.


HOME | Struck by Lightning | 1990: Five Quest | 1991: More Input | Johnny Art | Johnny Clippings | Come and Follow Me

Johnny-Five.com HOME